COMPANY OVERVIEW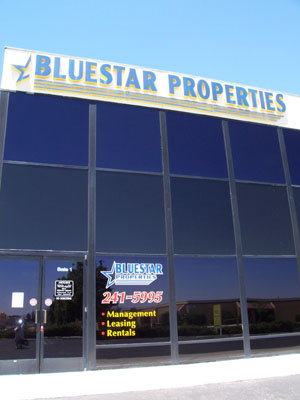 Bluestar Properties Inc is a full service property management company, with over seventy-five years combined experience in the property management field.
Bluestar Properties began because the Victor Valley was in need of a professional property management company. The first property Bluestar managed was destined for bankruptcy due to poor management by another company.
During our first year of business, both owners and renters expressed frustrations with local property management companies. All problems, from follow-up on maintenance requests to the mishandling of owner funds were shared with us.
Bluestar Properties addressed these concerns and began acquiring new accounts. During our first several years, Bluestar Properties acquired new accounts through word-of-mouth and personal referrals. In 1997, we expanded our advertising to include the local paper, yellow pages, and cable television. In December 1997, we purchased the Property Management Division of Ben Hinkle Real Estate and in August 1998, we purchased our second management company, Mountain View Properties. In October 2001, we purchased the Management Division of Century 21 Desertrock, and in January 2003 we purchased Crown Properties. Bluestar's office is in Victorville, CA and Bluestar Properties currently provides property management in Victorville, Apple Valley, Hesperia, Adelanto, and more.
Beginning in 2001, Bluestar Properties added Commercial Property Management. In 2004, we received the management of several local home owners associations. Currently, Bluestar Properties manages over $650 million in real estate.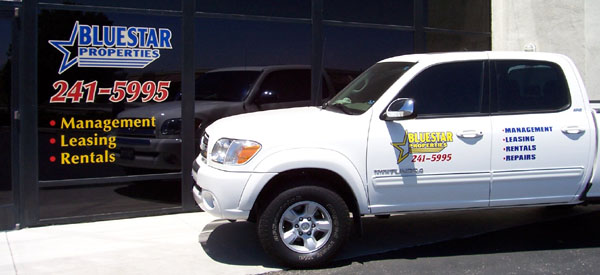 Bluestar Properties is a founding member of the Property Management section of the National Association for Realtors, whose objective is to advance to the professional development and recognition of the property manager. Bluestar Properties and its employees have received the following awards:
| | |
| --- | --- |
| | |
| Regional Manager of the Year | - AAGIE |
| Manager of the Year 100 Units | - AACSC |
| Maintenance Supervisor of the Year | - AAGIE |
| Leasing Agent of the Year | - AAGIE |
| Community of the Year 75 Units | - AAGIE |
| Lifetime Achievement Award - Ben Lamson | - APEX |
| Business of the Month - December 1995 | - Hesperia Chamber |
| Business of the Month - February 2000 | - Hesperia Chamber |
| Business of the Year - 2004 | - Hesperia Chamber |
| Business of the Month - February 2008 | - Hesperia Chamber |
| County of San Bernardino Resolution | - County of San Bernardino |
Bluestar Properties is excited about real estate in the High Desert and Southern California. In 2006, we received our contractor's license and added a new development division later that same year. We are progressive company that closely follows local and state legislation than can impact our client. Currently, Bluestar employees hold two board member positions with the California Apartment Association to track industry updates.

Bluestar Properties is proud to announce that in 2008, we were able to introduce a monthly inspections service at no added cost. Each month, Bluestar's inspector drives by and photographs the property to check on the well being of the unit. These monthly inspections help ensure that there has been no forced entry or that no one is stealing power, etc. The external photographs are readily available for e-mail at the click of a mouse. This way, near or far, you can view the most recent pictures of your property in moments. These inspections also allow Bluestar to make sure the external of the occupied units are in top condition.
© Copyright 2010 Bluestar Properties Inc
Copyright | Fair Housing | Visitor Agreement